Scam Research
Mail Archives
Scam Books
Scam Term FAQ
Glossary
Anti Scam Tools
Scam Awareness Game
Scam Awareness Quiz
Nigerian Scam >>Spam Filters

Spam Filters

Know About Spam Filters






Spam filter is a program that, web based, server based or installed locally, prevents spam e-mail from being downloaded to your PC. This operates on the foundation of what are called rules. The spam fighting program will examine your received e-mail and match it against a set of pre-defined rules. If the received mail doesn't match the pre-defined rules then this will be discarded or sent for the authorized review.


Now-a-days e-mail application come with a basic spam filter that allows you to hunk e-mail form exact addresses. Some more complex e-mail software allows you to configure rules just for that software itself. It can get pretty complex pretty quickly and people who suffer from a lot of spam want a uncomplicated solution to their problem .

The spam filters that are on the market at the second the gigantic mainstream of them need to be installed to your hard drive. Theres a move towards spam filters that do all the work online before the e-mail ever gets to your computer. For the time being 90% of all spam filtering software will need to be installed on your computer.

There are some PC spam filter which protect the pc from the junk spam e-mail.

Some of the most popular Pc spam filters are

Mail Washer Pro.

ihate spam

Cloudmark Desktop

Spam Bully.

PC Spam Filters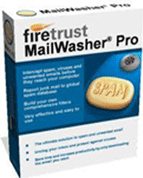 Mail washer Pro is one of the most accepted PC based spam solutions on the marketplace today. The Mail washer Pro software is installed to your hard drive. Each time you need to check your e-mail you launch Mail washer Pro and it allows you to preview all of your e-mail and delete what you need before you download the rest of your e-mail.
One of the neatest features of Mail washer Pro is that it allows you to post a reply to the spammer that mimics a "mailer daemon" error message. When the spammer gets this message from you he assumes your e-mail address no longer exists.Simple but effective.So to conclude a spam filter is any program, application or service that can prevent junk e-mail from being downloaded to your PC or sent to your e-mail account. The spam filter software can be stored online on the mail server or can be installed on your computer. The desired end result is always the same - less spam on your PC.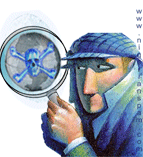 Filter those frustrating, unwanted e-mail messages from your in-box.IHateSpam runs gently in the backdrop to contrast your incoming e-mail against a current list of known spammers; if one matches, you're notifying with a pop-up window that the mail is "quarantined."
The utility runs inside Microsoft Outlook and Outlook Express, so you avoid the irritate of running a separate program. IHate Spam will robotically bring up to date itself to ensure that you're protected against the most recent spammers..
Cloudmark Desktop is one of the most popular standalone spam filtering products on the market today. Cloudmark Desktop delivers complete spam, phishing and anti-virus security for Microsoft Outlook and Microsoft Outlook Express.
The Cloudmark Desktop application is a insubstantial plug-in that shows up as a simple toolbar directly on the email client. With its unparalleled effectiveness and ease of use.Cloudmark Desktop is capable of detecting more than 98% of spam which is impressive to say the least
Mail washer Pro

System Requirement

Windows 95, 98, NT 4, ME, 2000 or XP

POP3, IMAP, AOL and Hotmail/MSN support

4MB RAM

4MB Hard disk space

IHateSpam

System Requirement

Outlook Windows 98 / NT / 2000 / XP

Microsoft Outlook 2000 / XP / 2003

Exchange, POP3, IMAP, Hotmail / MSN

Outlook Express Windows 98 / 2000 / XP

Microsoft Outlook Express 5 / 6 POP3, IMAP, Hotmail / MSN
Visitors Voting

Vote for following anti-spam software.