Australia - Additional Country Specific Instructions - Australia
According to the West African Crime Section (WAOCS) in the UK, Australians are suppose to report 419 fraud matters in Australia to their local police and also report to Australian West African Organized Crime Section at er-waoc@afp.gov.au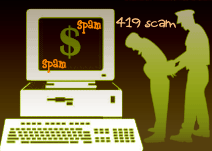 Belgium - Additional Country Specific Instructions – Belgium
The Belgian Federal Police suggests everybody not to reply to these types of emails. 419 spam emails received by Belgian citizens or if contain Belgian phone numbers or other Belgian information need to be sent, with headers, in to the Belgian Federal Police at contact@fccu.be so that police could use these mails for further investigations.

Canada - Additional Country Specific Instructions - Canada
Regional Offices of the RCMP Commercial Crime Branch are noted as the proper places to direct scam inquiries faced by Canadians. The phone/fax numbers of the nearest CCB office are available from in any local detachment of the RCMP/GRC.
Also, in Canada, the Phone busters National Call Centre (PNCC) have a joint partnership involving the Ontario Provincial Police and the Royal Canadian Mounted Police. Phone busters is actually very interested in receiving copies of any 'new' versions of Nigerian letter schemes mainly for those involving Canadian scammer mailing addresses or telephone numbers. You can email such 419 Scam letters to them at WAFL@phonebusters.com
You have another option to access the Royal Canadian Mounted Police Website (RCMP/GRC) that contains a section on the Nigerian Scam.

Netherlands - Additional Country Specific Instructions - Netherlands
Korps landelijke politiediensten
Subject: Fraud investigation
Referentie: C. Schep
Phone: +31 79 345 8900
Phone: +31 79 345 9300
Fax: +31 79 345 8792
Fax: +31 79 345 9396
The Dutch National Fraud bureau of the Financial Crimes team of the Dutch National Bureau of Investigation had conducted an investigation to worldwide fraud practices, which are known as "Advance fee-fraud" or "419-fraud" "419-scam".
If you have had contact with suspect scammer from The Netherlands and had been victim to such 419 fraud, we urge you not to send any more money. We would appreciate if you would cooperate with the investigation by sending us a written report with the following information in the format shown below:
I,
: Your full name;
: Date of birth, place of birth and country of birth;
: Full contact address and country;
: Profession and nationality;
: Phone- and fax number and e-mail address
Hereby officially report a case of fraud to the Dutch National Authorities.
Please give a chronological overview of your case, including the following aspects:
w How contact was first established with the Scammer?
w How were you approached by Scammer?
w Who approached you (if possible please give us full name, phone- and fax number and e-mail address)?
w What was the role and function of Scammer?
w How was the case described to you by the Scammer?
w With who else have you had contact and what were the roles/functions of Scammers?
w Make a list of all contacts you have had with the Spammer and the other parties involved (as much as possible with date, time, by phone, fax or e-mail?)
w Have you ever met one or more of the Scammer in person?
w If so, can you recognize them again?
Please state if you have made any payments, and if so, why.
Make a list of all payments made by you, stating the amount, the date, the beneficiary and also the method of payment (cash, direct deposit or Western Union). Also need to note the information you have about the bank and the account number and then name of the account holder.
Please state that this statement and the information contained within could be further used in a federal procedure against the Scammer. Also state that you claim back from the Scammer all the money that you have paid.
Finally, you need to state that you have filled the following report truthfully. Do not forget to sign it up. Send this report and all the documents you have received or sent copy and all confirmations of receipt. Also carry a list of all documents sent in your report.
Dienst Nationale Recherché Informatie
Landelijk Bureau Fraude
Post bus 3016
2700 KX Zetterberg
The Netherlands
[This material courtesy of the Artists against 419 (Netherlands).]

South Africa - Additional Country Specific Instructions - South Africa
You might fax all 419-Scam documents referencing South Africa, especially with those phone numbers or other banking information, to the Commercial Branch, South African Police Service, Head Office for further attention Superintendent SC Schambriel at facsimile number +27123391202, telephone number + 27123391203 or e-mail: hq.commercial@saps.org .za. Please mention if you have incurred any financial loss.
The South African Police Service also maintains a 419 Scams/Nigerian Letters Alert on their existing website. They also have a counter-419 scams notice in their FAQ Section on the site. They used to show a short Anti-419 Scam Pamphlet that was issued by and available from the South African Police Service.

United Kingdom - Additional Country Specific Instructions - United Kingdom
Basically, the UK have now decentralized 419 Scam reporting and does not want to hear from people unless there has been any loss or a UK bank account or phone number is given by the 419 Scammers. The complete instructions could be seen at the London Metropolitan Police website section concerning Nigerian 419 Scammer Advance Fee Fraud http://www.met.police.uk/fraudalert/419.htm

United States - Additional Country Specific Instructions - United States
1. The United States Secret Service continues to be tasked as a primary US law enforcement agency dealing with 419 Scammer Advance Fee Fraud matters. US Citizens or Residents with No Financial Loss might email with 419 Scammer documents to the United States Secret Service at 419.fcd@usss.treas.gov where they will archived for future data mining. Only No Loss reports need to be sent to this email address. Due to the pure volume of materials received, USSS do not respond to submissions to this address.
2. United States Citizens and Residents who have by now suffered a Financial Loss are instructed to contact any nearest Field Office of the United States Secret Service (USSS) by telephone.
3. You might also file a Financial Loss complaint (FIR) online with the Internet Crime Complaint Center (IC3) [formerly the Internet Fraud Complaint Center (IFCC)]. This organization is in partnership with the National White Collar Crime Center (NW3C) and the Federal Bureau of Investigation (FBI).