Scam Research
Mail Archives
Scam Books
Scam Term FAQ
Glossary
Anti Scam Tools
Scam Awareness Game
Scam Awareness Quiz
Biz-Op - Bruce Easley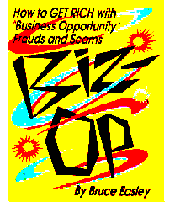 ABOUT BOOK :
This book has been debarred since the writer was sued by the lighthouse people for writing it. If you were to catch these scams a few steps more then they would be in fact legal. This book has helped me with my authorized marketing. Its better to consult an attorney first before trying any of these methods.
ABOUT AUTHOR :
Bruce Easley makes his living shearing the "mooches" who react to get-rich-quick ads. He sells "business opportunities," such as transaction machine routes.
New Scam Reports

New Affinity Fraud

By, alley

New Banking Scams

By, maria

New Internet Scams

By, john

New Internet Scams

By, Scam Reporter

New email fraud

By, Scam Reporter
Visitors Voting

Vote for following anti-spam software.