Scam Research
Mail Archives
Scam Books
Scam Term FAQ
Glossary
Anti Scam Tools
Scam Awareness Game
Scam Awareness Quiz
Scambaiting
Nigerian Scam >> scambaiting
Scambaiter: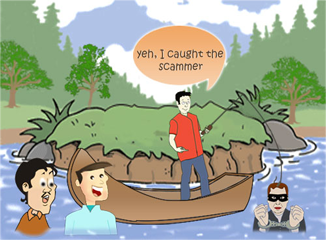 Scambaiting in simple words, is wasting the precious time of a spammer pretending that you are interested in their schemes.
It is a method of entertaining the baiter and pretending as if you are ready to perform some ludicrous tasks. Thus indirectly you are keeping the scammers from potential victims who may fall in trap with the scammers.
Scambaiting is the practice of pretending interest in a fraudulent scheme in order to influence a scammer in many possible ways. Scam baiting emerged in response to e-mail based frauds such as the common Nigerian 419 scam.
It may also be considered as a type of sting operation, although many scam baits are simply to waste time instead of catching the scammers.
Scambaiter's Task:

Send the scam mail senders to a Western Union office to collect the supposedly sent money and get them to book hotels for them.
A few scam baiters have also succeeded in receiving cash from the fraudsters.
Giving the scam a long, silly questionnaire to fill out filling up their inboxes with large attachments making Nigerian scam mailers call the baiters back on the telephone (using anonymous VOIP numbers), in order to waste their time and money hacking into the scammers email accounts in order to find their victims addresses which can be passed on to legal authorities in the hope that they will be prosecuted, or simply to amuse the baiter.

Scambaiter's Goal:

Several websites publish transcripts of correspondences between baiters and scammers. One common goal of scam baiting has become the photographic trophy. The scam mail senders, sometimes known as lads, are goaded or cajoled by the Mugus, or victims, into having a picture taken by them.
Principles of Scambaiting:
Baiting the scammers:
To waste the scammers' time
To embarrass the scammers
Cause the scammers to reveal confidential information
which can be passed on to legal authorities in the hope that they will be prosecuted, or simply to amuse the baiter.
ASEM bait:
A new technique called an "ASEM bait" (Accidentally Sent E-Mail) has been recently developed. It fools the scammer into believing that the scam baiter has accidentally sent an e-mail to him when the "victim" is actually intending to send the e-mail to another fraudster.
Many ASEM baits have been very successful. A beneficial side-effect of scambaiting has been the exposure of false and fraudulent "banking" and "credit" services, which are often created by the scammers to further their scams and make them seem legitimate.
Scam-baiting is a potentially dangerous activity. At least one scam victim has been murdered as the result of a Nigerian 419 scam, and scam-baiters are presumably not well-liked by the 419 scam operators.
Jeff Adams:
There's rumor running about Jeff Adams scam which can be certainly untrue. Jeff Adams is the type of great real estate guru who has trained plenty of real estate freaks and they also have come away with flying colors making super deals. Nevertheless you can have come across what is the news of Jeff Adams scam the industry false report.
Real estate investments scam baiting tips

Dave lindahl scam baiting says some tips to Prevent Becoming a Sufferer of Real estate Scams. There are a lot of property "professionals" out there who will take benefits of anyone who is promoting for the first time. Do not be taken in by these fraud performers by following these guidelines.

Everyone desires to either buy a home of their own at some factor in their lifestyle, or to provide their homes for a affordable price. However, due to the lengthy and challenging process that comes with buying property or putting a home up available on the industry, people are often affected to make a deal with someone offering a "quick fix".

New Scam Reports

New Affinity Fraud

By, alley

New Banking Scams

By, maria

New Internet Scams

By, john

New Internet Scams

By, Scam Reporter

New email fraud

By, Scam Reporter
Visitors Voting

Vote for following anti-spam software.