Scam Research
Mail Archives
Scam Books
Scam Term FAQ
Glossary
Anti Scam Tools
Scam Awareness Game
Scam Awareness Quiz
Charlatanic Scams - Gregory G.Doyle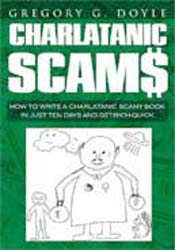 ABOUT BOOK :
This book is a work of spoof, written to representation and scoff at charlatans and their everywhere scamming. The greatest way to attack charlatanry is, we consider, with rapier wit. Missing that skill, on the other hand, we happily took up the mallet.






ABOUT AUTHUR :
Gregory G. Doyle is a retired research geneticist, previously working in the U.S. Department of Agriculture. He got his Ph.D. from the University of Illinois, Champaign-Urbana, in 1960. Besides writing this crazy book, and a coming sequel (The Complete Charlatan), he enjoys growing the size of his already enormous rubber band ball, and experimentation with new and exciting card games (another book forthcoming!).
Visitors Voting

Vote for following anti-spam software.