Scam Research
Mail Archives
Scam Books
Scam Term FAQ
Glossary
Anti Scam Tools
Scam Awareness Game
Scam Awareness Quiz
Avoiding Scams - Steve Weisman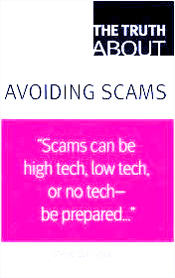 ABOUT BOOK:
Scams are in all places now... Discover exactly how to protect yourself from it!. The fact about safeguarding your money, wellbeing, and status. The truth about pharming, slamming, phishing, vishing, and more.

This book tells about 61 proven, easy scam-proofing, bite-size, techniques that works; Scams have for all time been with us, and they will always be - except now, technology makes scammers' works even easier, allowing them to reach out from everywhere around the world, and take benefit of many people than ever before. No matter how intelligent you think you are, you can without doubt become a victim: in fact, scammers have discovered that educated, sophisticated persons are among their greatest targets. The Truth about Avoiding Scams joins you with everything you need to save yourself: genuine, up-to-the-minute information and the "inner sensors" you need to sniff out even the subtlest, the majority well-crafted scams.







ABOUT AUTHOR :
Consumer finance expert and nationally syndicated radio host Steven Weisman offers bite-size, speedy, just-the-facts information about every kind of fraud, from identity scams to computer-based fraud, travel and health scams to phony educational loans and scholarships.
New Scam Reports

New Affinity Fraud

By, alley

New Banking Scams

By, maria

New Internet Scams

By, john

New Internet Scams

By, Scam Reporter

New email fraud

By, Scam Reporter
Visitors Voting

Vote for following anti-spam software.