Scam Research
Mail Archives
Scam Books
Scam Term FAQ
Glossary
Anti Scam Tools
Scam Awareness Game
Scam Awareness Quiz
Spammer / Scammer detail checker
Nigerian spam » Spam checker Tool » Spammer / Scammer detail checker
"Spam is not a technical problem. Spam is a social problem." - John Mozena
DEMO / INSTRUCTIONS
Enter the suspected email id and click check button


Your expected results will look like this: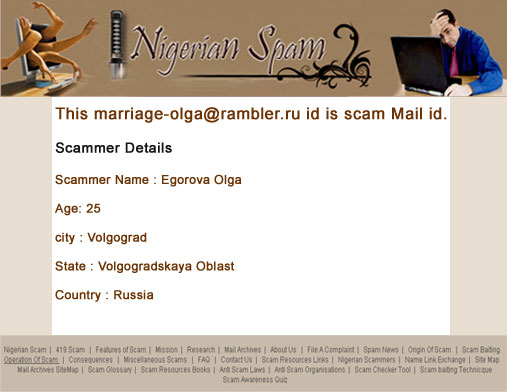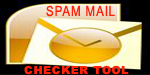 Our spam/scammer Detail Checker Tool is 100% free to use. If you have receive an email from a person and if you are doubtful that this mail id and the person could be a spam / scam, you can use our Spam / Scammer detail checker free tool.

When you enter the scammer emailid, this scam email checker tool displays the scammer name, scammer email_id, scammer age, scammer city, scammer state and scammer country.
If you like this spammer / scammer detail checker tool. Copy the below code and paste in your site. So that it can help your users to identify the list of spammer/scammer details.
Visitors Voting

Vote for following anti-spam software.