Scam Research
Mail Archives
Scam Books
Scam Term FAQ
Glossary
Anti Scam Tools
Scam Awareness Game
Scam Awareness Quiz
Spammer / Scammer detail checker
Nigerian spam » Spam checker Tool » Spammer / Scammer detail checker
"Spam is not a technical problem. Spam is a social problem." - John Mozena
DEMO / INSTRUCTIONS
Enter the suspected email id and click check button


Your expected results will look like this: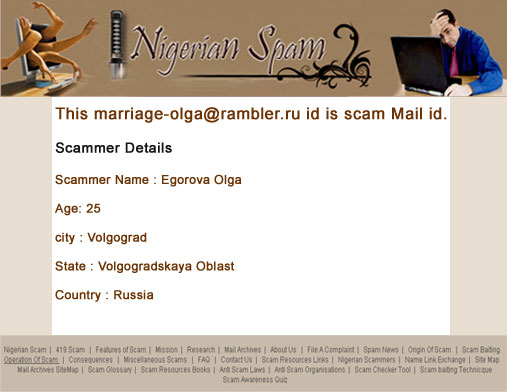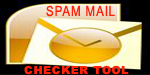 Our spam/scammer Detail Checker Tool is 100% free to use. If you have receive an email from a person and if you are doubtful that this mail id and the person could be a spam / scam, you can use our Spam / Scammer detail checker free tool.

When you enter the scammer emailid, this scam email checker tool displays the scammer name, scammer email_id, scammer age, scammer city, scammer state and scammer country.
If you like this spammer / scammer detail checker tool. Copy the below code and paste in your site. So that it can help your users to identify the list of spammer/scammer details.
New Scam Reports

New Affinity Fraud

By, alley

New Banking Scams

By, maria

New Internet Scams

By, john

New Internet Scams

By, Scam Reporter

New email fraud

By, Scam Reporter
Visitors Voting

Vote for following anti-spam software.