Scam Research
Mail Archives
Scam Books
Scam Term FAQ
Glossary
Anti Scam Tools
Scam Awareness Game
Scam Awareness Quiz
Scam & Frauds - Lance Spicer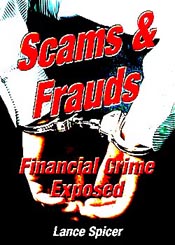 ABOUT BOOK :
This book may shock you - it may anger you - but it will give you the Truth.... If you can handle the Truth!
* High Yield Investment Programs
* Sham Investment & Savings Clubs
* Pyramid Schemes
* MLM Shams
* Ponzi Schemes - Gold Bullion and Mine scams
* A list of the biggest, boldest and most well known scams around today
* Nigerian Letters
* Lottery scams
* Offshore Investment scams
* Fake Credit Cards
* Affinity fraud
* Self Liquidating Loans
* The truth about Pure Trusts
* Internet Frauds and Scams
* How to avoid being taken and what to do if you have
ABOUT AUTHUR :
Lance Spicer has a long career as a senior accountant, financial executive and tax consultant to numerous major international corporations in Australia, Lance resolute to pursue his real fervor, investing.
Lance has spoken at a number of international and local seminars on issues of taxation, investment and financial privacy. His books have been featured on Australia's ABC TV, in TIME Magazine and discussed on radio in the USA and in Australia. Lance's biography has been included in the Who's Who in the World.

Visitors Voting

Vote for following anti-spam software.