Scam Research
Mail Archives
Scam Books
Scam Term FAQ
Glossary
Anti Scam Tools
Scam Awareness Game
Scam Awareness Quiz
A Culture Of Corruption - Daniel Jordan Smith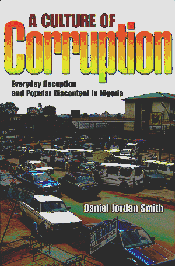 ABOUT BOOK :
Nigeria is famous for corruption, from the fraudulent emails almost everybody on the Internet receives to news stories of incredible governmental impropriety. Nigerians and foreigners alike distinguish corruption as disastrously central to the country's identity. The book under review is therefore of great interest. This book is Ethnography of everyday corruption centered on Igbo-speaking areas of southeastern Nigeria.






ABOUT AUTHOR :
Daniel Jordan Smith is a Stanley J. Bernstein Assistant Professor for the Social Sciences and International Relations and Assitant Professor of Anthropology in the Department of Anthropology.
New Scam Reports

New Affinity Fraud

By, alley

New Banking Scams

By, maria

New Internet Scams

By, john

New Internet Scams

By, Scam Reporter

New email fraud

By, Scam Reporter
Visitors Voting

Vote for following anti-spam software.